Gold lichen and ruby ring.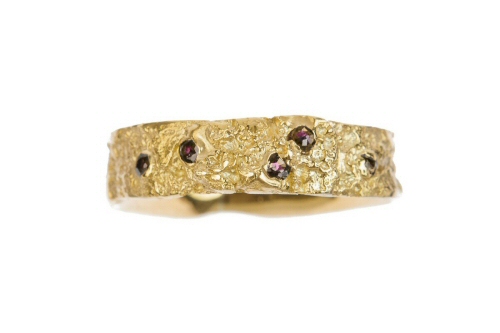 Hover over or touch image to zoom
£1,875.00
Quantity:
Select ring size below before adding to basket.

Gold
Select Ring Size
American
Size
British
Size
French
Size
German
Size
Japanese
Size
Swiss
Size
Circumference
mm
Diameter
mm
Diameter
inches
Description
A fallen branch was used to create this ring, found with gorgeous green and yellow lichens, a section was cut and cast, preserving the textures for ever. Set into the 18ct gold are 5 faceted rubies, the band is 6mm in width and carries a Birmingham hallmark. This ring can be worn alone or paired with other woodland wedding designs . It could be used as a wedding or engagement ring.
You may be interested in...
oak and acorn
Trees
woodland plants
---
Can't find what you want? Contact me for help.